Nora Roberts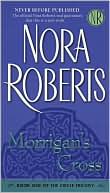 Recently I finished my first set of Nora Roberts books. It was recommended to me by a friend who knew I was feeling sad since the
Twiligh
t series has finished. I wanted to read something in a similar genre, romance but with vampires but not to sci-fi or fantasy.
I'll be honest, I had been avoiding Nora Roberts because I wasn't altogether convinced about her, she seems very mass-market. This series did nothing to really alter my opinion. She is not a bad writer but just nothing that really presses me to rush out and get her next novel.
She would be a good filler if I have nothing else to read or maybe laying on the beach, but certainly not the first author I would gravitate too. My problem with this particular series (and what I suspect with her other books) is that she starts with a good premise but there is no real fleshing out of the story, the romance seems too hurried and onerous details inserted where the reader can't care.
This is like the third mass market writer whose books seem to always be on the best seller list but whom I've found bland or unimaginative, formulaic or just plain vomit inducing, such as Nicholas Sparks, Clive Cussler and Diana Gabaldon).
As for vampire stories and romance go - there are some books I love and recommend:
1.
The Twilight Series
(yes it is for teenagers and some parts very syrupy but the writing is good, the story enrapturing and I love it!).
2.
The Vampire Diaries
(another for teenagers but divided in four books, it is riveting as you follow the characters through each story).
3.
Dracula
(nobody does it as well as the original, Bram Stoker's classic still gives me chills when I read it).
4.
The Historian
(by Elizabeth Kostova, this book is a page turner filled with vampire lore, though be forewarned the ending is a bit abrupt and disappointing).
5.
The Rest Falls Away
(this is a new series combining regency romance and vampires, I've just started and am addicted, thanks to Darla D for getting me hooked to it).
Hope everyone is having a lovely holiday season!