Waitress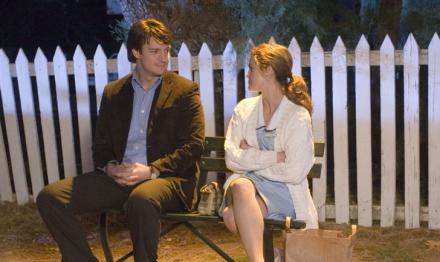 Waitress is the little movie you're not seeing and should be!
Taking a break from income sheets and balance statements, I went with the divine
Molly M
. and fabulous
Darla D.
to see this gem of a movie tonight. It was lovely (both the movie and my time with Molly and Darla).
The film (one of Sundance's breakout hits, see story of Little Miss. Sunshine), follows the story of Jenna (Keri Russell), stuck in an abusive marriage, working at this cute diner making awesome pies. The adorable Nathan Fillion (my current crush) plays her doctor, her OBGYN. He is very funny and endearing in the film (but I still liked what Jenna did with him in the end, very woohoo! moment).
I knew the film's plot going into the movie and I wasn't sure I would like it having primarily gone to see it for Mr. Fillion; but the late (and amazingly talented, watch the film and see) Adrienne Shelly and who wrote and directed this picture, really brought this sweet story to life. I enjoyed the messages in it, very sort of girl power without being obvious and the idea of happiness being relative. I left the theater just feeling good, peaceful....not many movies affect people this way anymore.
This is becoming the little movie that could, growing larger and larger and showing in more and more theaters. Molly told me it was number 5 at the box office last week!
So as all the critics have been doing, I HIGHLY recommend, if you are going out to the movies to pick this flick.